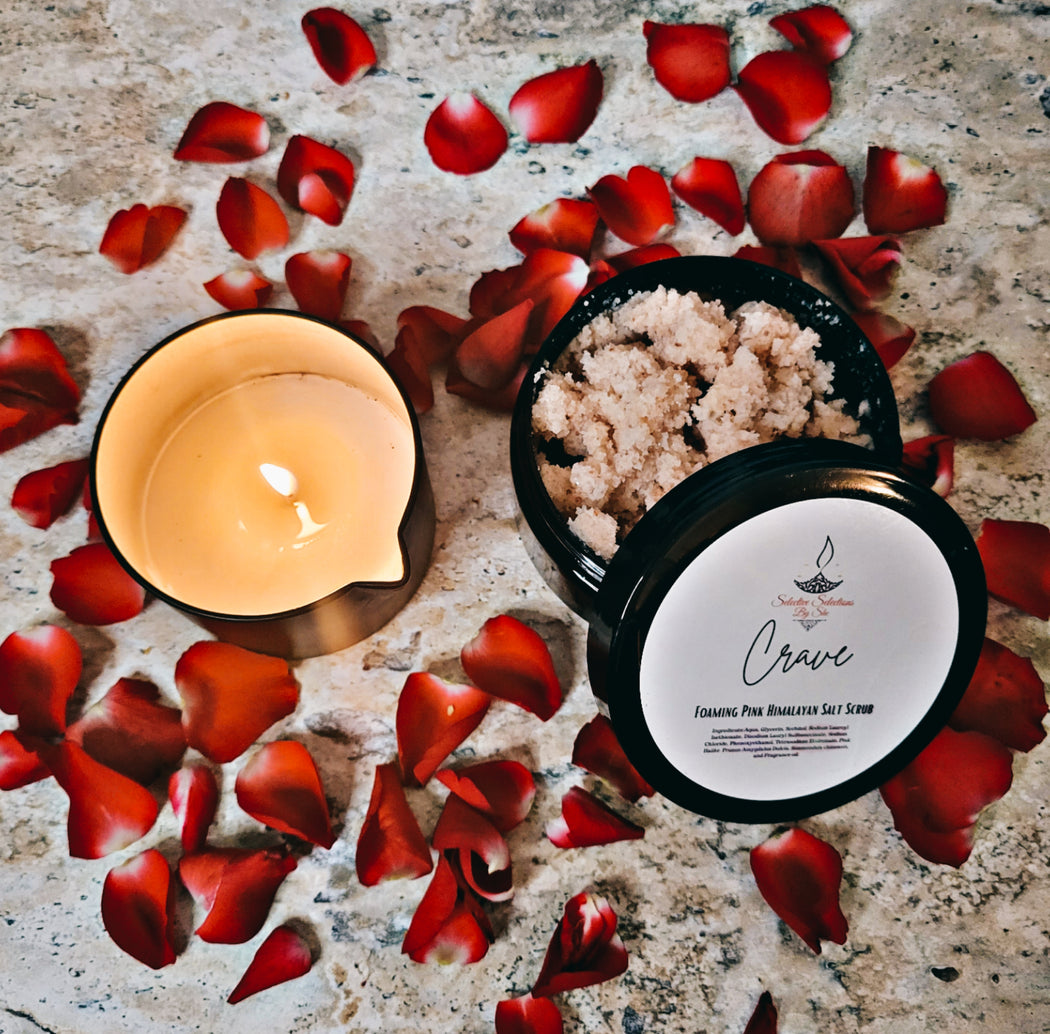 Massage Candle & Foaming Body Scrub Bundle
The perfect pair for an evening of 2. Exfoliate then moisturize with our Foaming Body Scrub & Massage Candle. 
Fragrances:

Our Love - Channeling the essence of LOVE.. hints of exotic musk, sweet notes of vanilla, bursts of tangy citrus, and a fresh flare of lavender.
Goddess - Sweet notes of blossoming buds coupled with a soft musk aroma.
Noir - An intriguing fragrance that appeals to both masculine and feminine sensibilities. Infusions of tonka bean, Amber, lavender, sage, amaretto, pineapple, and coconut.
Crave - a sweet, zesty, and vibrant fragrance. A fun playful scent that will fill your room with notes of lemon, peach, orange, grapefruit, and a touch of jasmine.

Fearless- Inspired by the strength, mystery, and power of feminine aroma. It's bold with a lingering hint of sweetness. Fearless embodies an intriguing fragrance of amber, vanilla, cedarwood, musk, and coconut.
Definition of Sexy - A clean and fresh masculine scent that captures the true essence of sexy. The Definition of Sexy is a fusion of citrus, sandalwood, musk, and earthy notes. The aroma channels the erotic intensity of strength.
Foaming Body Scrub:
8 oz
Pink Himalayan Salt
Foaming Soap
Almond Oil
Jojoba Oil
Fragrance Oil
Massage Candle:
Hand Poured

Spouted vessel with lid
5 oz. of Luxury Coconut Apricot Wax -  

FDA approved using the finest coconut and apricot waxes (a minuscule amount of highly refined food-grade paraffin wax).

Cotton Wick
20+ Hours of Burn Time
Gluten-free, toxin free, paraben free, and phthalate free wax

Superior scent throw 

Skin Safe

Vegan and non-toxic
EVERYDAY SAVINGS
BUY 1, GET 1, 10% OFF
BUY 2, GET 2, 15% OFF
BUY 3, GET 3, 20% OFF