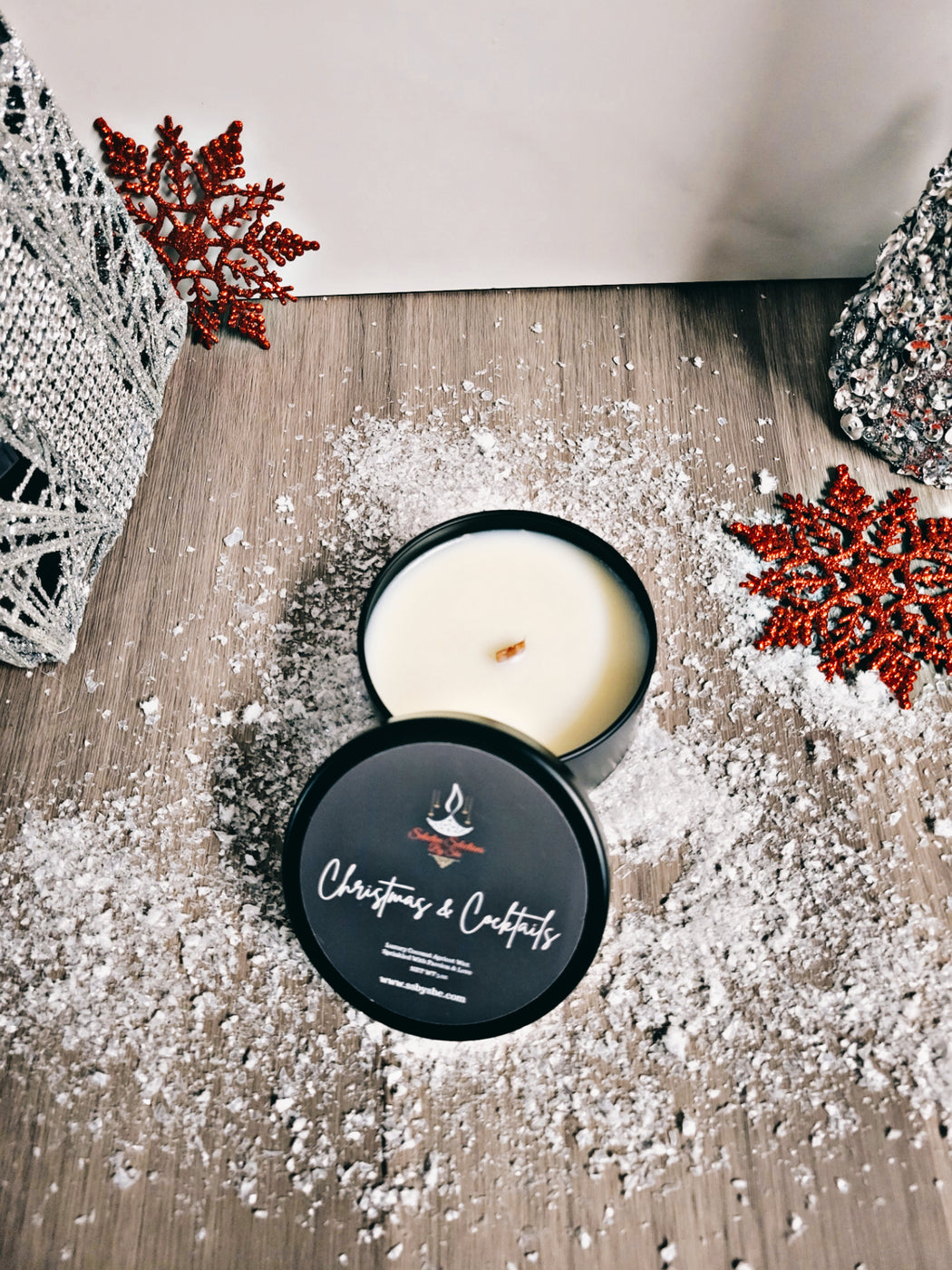 Fragrances:

Snow Angels is a sweet reminiscence of the joyous snow days we had as a kid. When we used miss school and play all day in the beautiful white snow. The fragrance is a playful caramel and vanilla swirled with a dollop of whipped cream.  
Christmas & Cocktails is just that... Who does not LOVE a fabulous cocktail. Bubbling Champagne, sparkling bellini, and a splash of luscious pear & berries to top off the perfect brunch, evening, and candle....  
Under the Mistletoe will make you fall in love with a fresh woodsy scent with a touch of sweet kisses. Eucalyptus, pine, notes of clove, with a touch of winter fruit.
Hand Poured

5 oz. of Luxury Coconut Apricot Wax -  

FDA approved using the finest coconut and apricot waxes (a minuscule amount of highly refined food-grade paraffin wax).

Premium Wood Wick
20+ Hours of Burn Time
Gluten-free, toxin free, paraben free, and phthalate free wax

Superior scent throw
 Ingredients: Luxury Coconut Apricot Wax and fragrance oil
Note: For the best results, burn your candle until the wax is completely liquified to the edge of the container. This will prevent the wax tunneling, which shortens the life and scent experience of your candle. Keep the wick trimmed to 1/4" to prevent a high flame and excessive smoke.
EVERYDAY SAVINGS
BUY 1, GET 1, 10% OFF
BUY 2, GET 2, 15% OFF
BUY 3, GET 3, 20% OFF