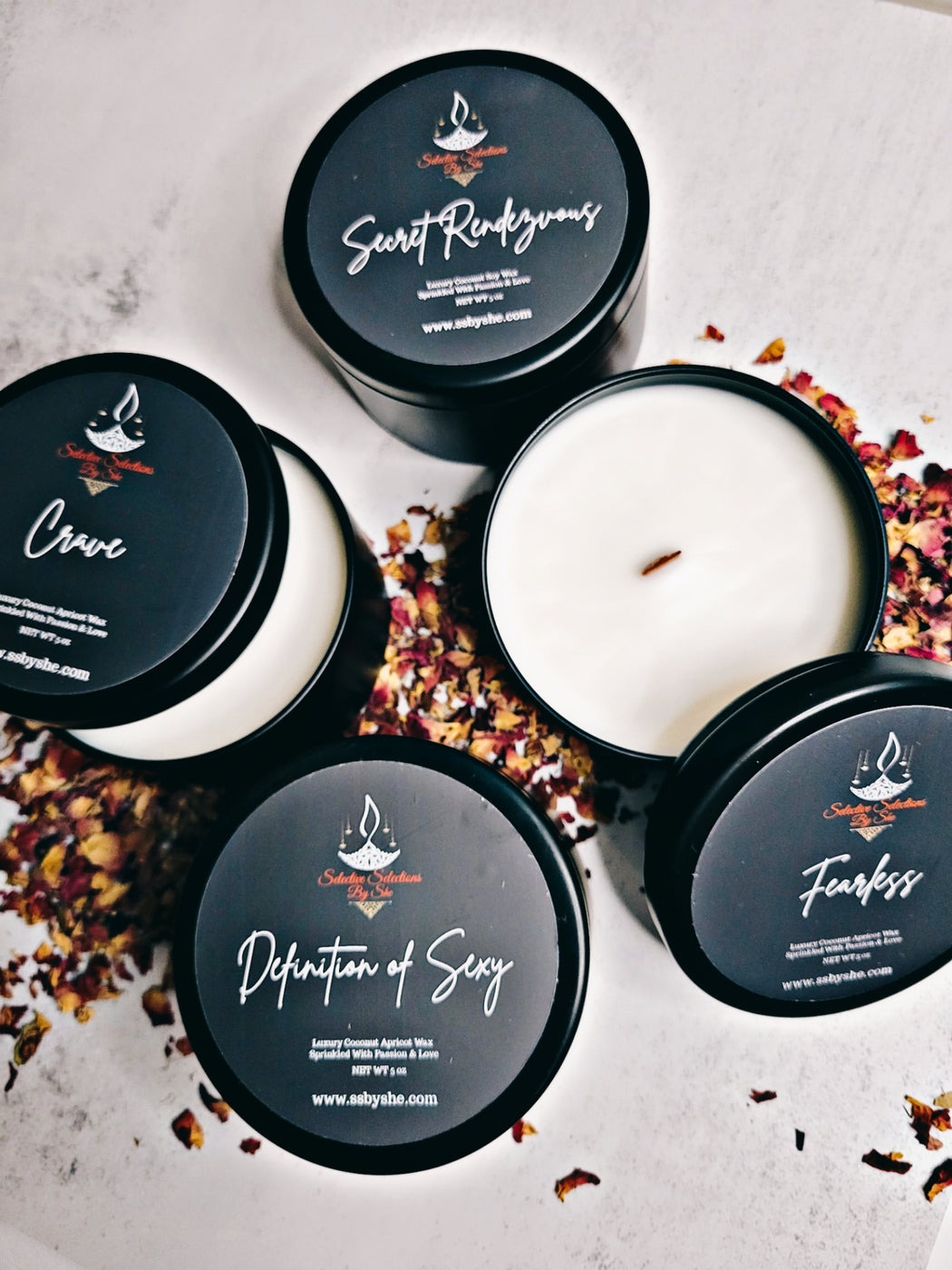 Our Select Friends spoke and we listened.... Introducing Our BESTSELLING Bundle. All of our top sellers in one box. Give as one big gift or as individuals. This set is a win win for any occasion. Bundle includes: 1 - Fearless, 1 - Definition of Sexy, 1 -Secret Rendezvous, and 1 - Crave .
Fearless- Inspired by the strength, mystery, and power of feminine aroma. It's bold with a lingering hint of sweetness. Fearless embodies an intriguing fragrance of amber, vanilla, cedarwood, musk, and coconut.
Definition of Sexy - A clean and fresh masculine scent that captures the true essence of sexy. The Definition of Sexy is a fusion of citrus, sandalwood, musk, and earthy notes. The aroma channels the erotic intensity of strength.
Secret Rendezvous - A luxurious linen infused with herbal lemon, floral, and citrus notes of the best clean cotton. Hints of aromas of woody, deep base of sandalwood, amber, and dark musk. Secret Rendezvous is flawless combination of a clean fragrance for masculine and feminine.
Crave - a sweet, zesty, and vibrant fragrance. A fun playful scent that will fill your room with notes of lemon, peach, orange, grapefruit, and a touch of jasmine.
Each Candle:
Hand Poured

5 oz. of Luxury Coconut Apricot Wax -  

FDA approved using the finest coconut and apricot waxes (a minuscule amount of highly refined food-grade paraffin wax).

Premium Wood Wick
20+ Hours of Burn Time
Gluten-free, toxin free, paraben free, and phthalate free wax

Superior scent throw 
Ingredients: Luxury Coconut Apricot Wax and fragrance oil
Note: For the best results, burn your candle until the wax is completely liquified to the edge of the container. This will prevent the wax tunneling, which shortens the life and scent experience of your candle. Keep the wick trimmed to 1/4" to prevent a high flame and excessive smoke.
EVERYDAY SAVINGS
BUY 1, GET 1, 10% OFF
BUY 2, GET 2, 15% OFF
BUY 3, GET 3, 20% OFF